Murat Akser
Murat Akser is also a practicing filmmaker with experience in Toronto and Northern Ireland film industry as a cinematographer, editor, screenwriter and director. His feature screenplay, Rise and Fall, has been accepted to Sundance Screenwriter's Lab  and his most recent film The Gift won Best International Short FIlm at Dublin Silk Road International Film Festival. Akser is a member of International Cinematographers Guild, Academy of Canadian Film and Television and Executive Board Member of European Communication Association.
Annalisa Insardà
Annalisa Insardà was born in Polistena (RC) and trained artistically at the Academy of Dramatic Art of Calabria in Palmi and the National Academy of Warsaw. Her first professional experiences are abroad: she participates in the Amsterdam International Theater Festival and in the centenary of Bertold Brecht in Germany. Subsequently she devoted herself mainly to classical theater, acting in various tragedies of the Syracusan theater season: Medea, the Eumenides, The Seven Against Thebes (winning the Asso-stampa award for best emerging actress in 2005). You often return abroad, from Greece to Austria, in shows directed by maestro Peter Stein. At the cinema she starred in the films: The secret guest by Paolo Modugno, Letters from Sicily by Manuel Giliberti (2007 Golden Globe winner film), It's time to change by Fernando Muraca with whom she won the Tropea Film Festival 2008 as best actress, Few days to understand by Carlo Fusco, Piacere, io sono Piero and Grigioscuro by Enzo Carone, with which she won the award for best actress at the Mendicino International Short Film Festival 2010, Trees in the wind, Neverland and Hold me tight by Luca Fortino, The Last Sun of the Night, by Matteo Scarfò, Pimpernel by Franco Jannuzzi. He still acts in successful television dramas including Carabinieri by Sergio Martino, A case of conscience by Luigi Perelli, This is my country by Michele Soavi, Lea by Marco Tullio Giordana, Our children and "Come una madre" by Andrea Porporati, 1994 by Giuseppe Gagliardi. She is active as a voice actress, acting coach and presenter. She was the correspondent of the Rai2 television program The verifier by Roberto Giacobbo. She is the author of the shows "Reality shock" and "Painless manipulation" of which she is also the director and performer.
Desiree Hostettler
Desiree Hostettler is a Swiss-Turkish content producer based in Los Angeles, California. She studied Popular Culture, Film Studies, and Art History at the University of Zurich in Switzerland and completed her Masters in Journalism Studies at Concordia University in Canada. After working as a business, arts, and culture journalist in Singapore and Turkey, she continued to work as a publicist in Los Angeles. Currently, she works as a content producer for a tech company.
Erdem Türkavcı
Lecturer at Istanbul Gelişim University, Department of Radio TV and Cinema. He completed his undergraduate and graduate studies in Radio, TV and Cinema program at Yaşar University, and then he completed his doctorate at Ege University. He has academic publications in the field of cinema and television. He worked as a copywriter in the sector. He competed in national and international festivals and received awards with his short films 910.000 (2015) and The Subject (2020) that he directed and scripted.
Gizem Melek
Gizem Melek is currently an Associate Professor of the Dept. of Radio Television and Cinema at Yaşar University and chair of the Women's Network at ECREA (European Communication Research and Education Association). Her academic research focuses on the interplay between media and politics, particularly in journalism, media effects, political communication, and climate change communication. She has published academic articles in various books and peer-reviewed journals, including Visual Studies, Visual Communication, Communications: The European Journal of Communication Research, and Visual Communication Quarterly. Recently, she served as the principal investigator of a TÜBİTAK (Scientific and Technological Research Council of Türkiye) funded research project on agenda-setting and the role of journalism in shaping public opinion at cognitive levels. Besides her academic work, she has extensive journalism experience in Türkiye and the UK. She worked as a correspondent for the news magazine Izmir Life for 2 years and later at NTV for over 3 years. She also worked at ITV's London TV Centre with renowned British TV personality Melvyn Bragg in the Specialist Factual & Arts Department, producing the award-winning show "The South Bank Show". Subsequently, she joined the British Museum's Broadcast Unit, contributing to the production of the documentary series "A History of the World in One Hundred Objects" in partnership with the BBC.
Gökçe Pehlivanoğlu
Graduated from the Cinema TV department at Marmara University in 2006. She was a lecturer of Music Video and Photography at Kadir Has University in 2009-2010, and of Cinematography at Academi İstanbul in 2012-2013. Made her MFA in Film and Drama at Kadir Has University in 2013. Currently, she is a lecturer of Music Video Production at SAE Institute İstanbul. She has directed six short films and twelve music videos. She started living in London and opened her own production company there in 2016.

Johnny Agnew
Johnny Agnew is a New Zealand born multi-award-winning Director of Photography, Director and Editor with well over fifteen years' experience in the creative advertising, television and film industries in Aotearoa.
His TVNZ+ documentary series, 'The Unortho_docs', collected him both Best Camera Work for Documentary and Factual and Best Editing honours at the 2019 NZTV Awards. Alongside his co-director and photographer wife, Azita Agnew, they released their 2021 documentary, 'Young and the Reckless', which received multiple awards on the International Film Festival circuit and a best director nomination at the 2022 NZ TV Awards. His latest documentary series, 'Red Light Boys', explores the hidden worlds of male sex workers in New Zealand, and is due for release at the end of July 2023.
Otwin Biernat
Owin Films was founded by director Otwin Biernat who was born in Graz, Austria. He started his foray into theatre and film in Vienna in 2002, where he developed his skills as an all-round artist. Through various national theatre pieces, he evolved from actor, to assistant director, and ultimately director. In 2009, Otwin moved to Berlin to expand his horizons. He joined the Berlin film circle, and in a spur of curiosity, started experimenting with cameras, leading him to discover his true passion – filmography. In 2011, "Codewort Mr. Bean" which he co-directed, acted in, and produced was selected for the Berlin International Film Festival. The film garnered 3rd place for "Best Camera" in the 99 Fire Films Awards category. Seeking international experience, Otwin moved to the Middle East in late 2011, where he worked for television as senior picture editor. However, the call of filmography was too strong, and in 2014, Otwin made his way back to Europe. He then co-produced the movie "Homesick" which had its world premiere at the Berlin International Film Festival in 2015. Capping off his experience in film and acting over the years, and as a debut to a career in directing, Otwin completed his first feature film "Im Auge des Betrachters" in 2017. in this movie Otwin fuses film, satirical theatre, music, painting and drawing, with unconventional storylines and cinematic techniques, creating a holistic art form that captivates and surprises viewers through engaging points of views.  
At the Kino Duel International Film Festival he got awarded by the famous Dmitry Talankin,  son of Oscar and Golden Globe nominated director Igor Talankin (Tchaikowsky).
Dmitry Talankin was head of the jury at KDIFF until he passed away in 2020. Otwin became part of the jury in 2019.  
Otwin also collaborates with the Antakya International Film Festival where he is in the jury too.  
At the moment Biernat works on a film project with Kristina Böhm, the daughter of Kalheinz Böhm, also known from the "Sissi" films.
Seda Aktaş
After graduating from Marmara University Cinema Department with the thesis on "Crowdfunding as an Alternative Way in Film Production ", Aktaş worked as a lecturer in the field of cinema and communication in various universities . She is still giving lectures on cinema and media and also carrying out crowdfunding campaigns in the field of culture and arts. Her research areas are; Collective Productions, Crowdfunding, Cyber ​​Culture, Funding and Supports in Cinema.
Sedef Hızlan
Sedef Hizlan is a filmmaker and film critic born in Istanbul. She graduated with highest honors as the highest-scoring student from the Film and TV program and went on to earn a master's degree in Film Studies from King's College London with a full scholarship for her academic achievements. Sedef has worked extensively on short films and publications, demonstrating her expertise in various aspects of filmmaking. In addition to her creative work, Sedef works as a film critic and has also conducted research on a range of topics, including Hollywood cinema, feminist cinema, and film-philosophy. Currently residing in Los Angeles, CA, Sedef is committed to creating compelling stories and contributing to the world of cinema.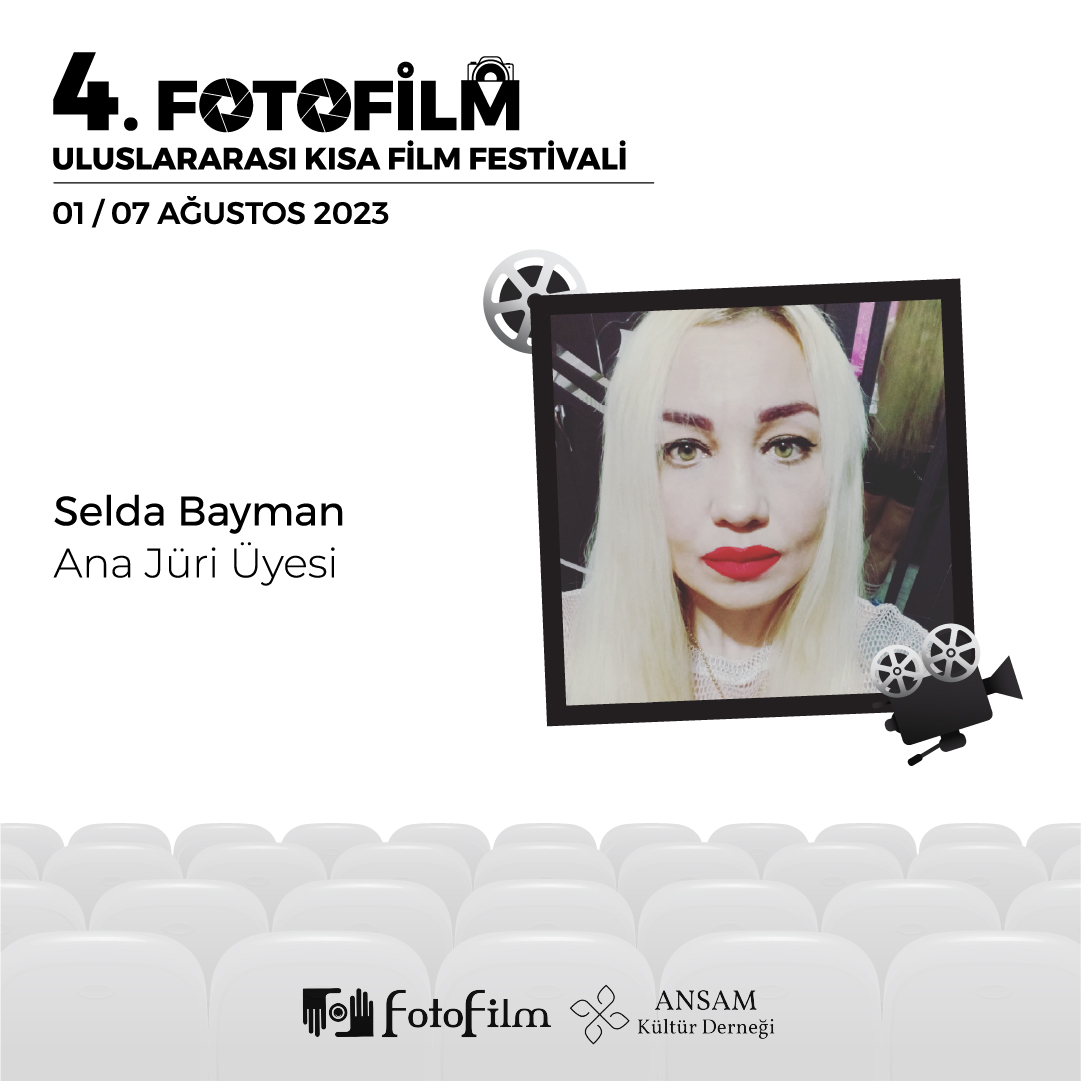 Zehra Cerrahoğlu
Zehra Cerrahoğlu (Assistant Professor, PhD, Dokuz Eylül University, Izmir/Turkey)  She currently works as an assistant professor at Dokuz Eylül University, Fine Arts Faculty, Department of Film Design and Directing, where she completed her PhD in 2014. She was a visiting PhD researcher in University of St Andrews, Scotland (Department of Film Studies, 2011) and a visiting researcher in Stockholm University, Sweden (Department of Media Studies, 2021). She teaches courses on film and style, film projects and pre-production and producing in cinema. Director's style, Turkish Cinema after 1990s, representation in film, film production strategies, European co-productions and European film policies are among her research interests.
Fotofilm 4. Uluslararası Kısa Film festivali
Festival Başkanı
Mehmet Oflazoğlu
Festival Direktorü
Özlem Tuğçe Keleş 
Festival Koordinatörü
Mehmet Ersöz
Sanat Yönetmeni 
Gülriz Fırat Topuzoğlu
Jüri Koordinatörü
 Murat Akser
Sosyal Medya
Efe Tağı
Emine Gökalp
Festival Poster
Mustafa Duman